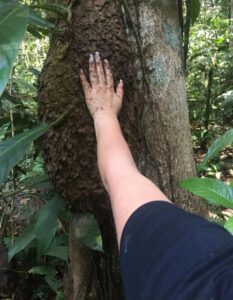 Volunteer in Yasuni
The Yasuni Kichwa Community of Pilchi is located at the low basin of the Ecuadorian Amazon, located 3 hours from the city of Coca. Mandi Forest and Lodge is their eco tourism projec. Mandi ¨leaf "in Kichwa, bears the name of the leaf that is found All over Mandi Forest.
The mission of the project is to maintain and define 3000 hectares of Protected primary Forest in Mandi Forest. Its approach is based on conservation, the protection of Kichwa culture, and the creation of a sustainable community.
Mission and values
Pilchi highly values its visitors, as well as their visitors value the project. In Pilchi, they share the value of respect where no one will feel scammed or abuse of any kind. The Mandi Lodge and Community Pilchi offers a safe place where volunteers can share a cultural exchange with a Kichwa community.
Volunteer activities
All volunteer activities can be organized and planned before the volunteer arrives. It is important to communicate with the volunteer coordinator ahead if time to coordinate materials needed to carry out volunteer activities.
Flora and Fuana project
– Volunteers will work closely with the Kichwa community to learn about native plant species help collect native seeds in the jungle.
– Help in the creation of a garden of medicinal plants and wild plants
– Help in the creation of a floral garden to attract hummingbird and decorate the Mandi Lodge
– Help identify and register flora, fauna and animals in the Mandi reserve.
– Tag and label all species of plants and trees located on the ecological routes to help educate knowledge lost in the surrounding Kichwa communities
– Help maintain ecological pathways where visitors learn about plants, animals and trees.
Ecological Construction of a Community Library
The community library will be the center of Kichwa culture at Mandi Lodge
– Collection of Kichwa dictionaries, Spanish, English and other languages
– Exhibition of the floral, fauna and animal registry within the territory of Pilchi
– Collection of books for visitors and the community
– Gallery of photos and art of culture Kichwa and the community Pilchi
– Create guestbook with registration of volunteers and visitors
Volunteer workshops
Volunteers and experts are invited to give the following workshops to the Kichwa community (must be prepared in Spanish). Plichi is 3 hours away from the Coca city, where education is more limited. The workshops will help the Kichwa to empower to create their own projects and initiatives for the future. All the workshops must be prepared in a physical (non-digital manner due to lack of projector and computer).
– English for guides and students
– Scientific research (teach the community How to make your own scientific research)
– Photography – VIDEO – CINE
– Human rights (territory, health, environment)
– Health
– Eco tourism
– Art (music, painting, theater, etc.)
Volunteer cultural exchange
Volunteers, students and researchers will participate in a cultural exchange in which they will learn about Kivwa Viva culture and how they used to live their ancestors. This is a very important piece for the Mandi project to guarantee the protection and safeguard of Kichwa culture. All visitors are welcome to document through photos, videos, documentaries, etc., to celebrate and maintain the Kichwa Cultural Heritage.
Volunteer Expectations:
-Volunteers will be volunteering between Monday to Friday with weekends free for leisure time or travel around Ecuador.
-Apt to simple living
-Able to be self sufficient
-Volunteers must bring their own food to the community. There will be a kitchen provided on site.
Pilchi services:
– Rustic living space (tents are an option)
– Water running
– Electricity when the generator is on
– Shower with cold water
– Kitchen in Mandi Lodge for cooking
Volunteer Contribution:
This contribution goes towards the community for hosting the volunteer in their community and goes directly towards materials needed for project activities.
Volunteers, students, or researchers looking to stay more 3 months or more are considered long-term volunteers and will only have to pay the 1-month collaboration
1 Week $250
2 Weeks $350
3 Weeks $450
4 Weeks $600
Volunteer placement deposit
A $100 deposit will be made to EEV in advance so we can confirm your volunteer placement.
It also includes:
* 24/7 emergency contact and support from EEV staff, administration costs, communication costs with volunteers and travel costs for program inspection;
* Accommodation
* Training and Support
* Work Reference / Volunteer Certificate
* Contribution to the community
Volunteers also receive discounts on Mountain Climbing and Trekking Expeditions.
Price Does Not Include
*Entrance fee of $25 to Parque Nacional Yasuni
*Community entrance fee of $20 if volunteer would like to partake in community tourism attractions (a very big discount compared to a regular paying tourist)
*Meals, however, food is relatively cheap to buy in the local market in Coca
*Volunteers also receive discounts on Mountain Climbing and Trekking Expeditions.
All of our volunteers are also eligible to discounts in our Ecuador Adventure Tours – ask our manager about special deals you can have while you volunteer.