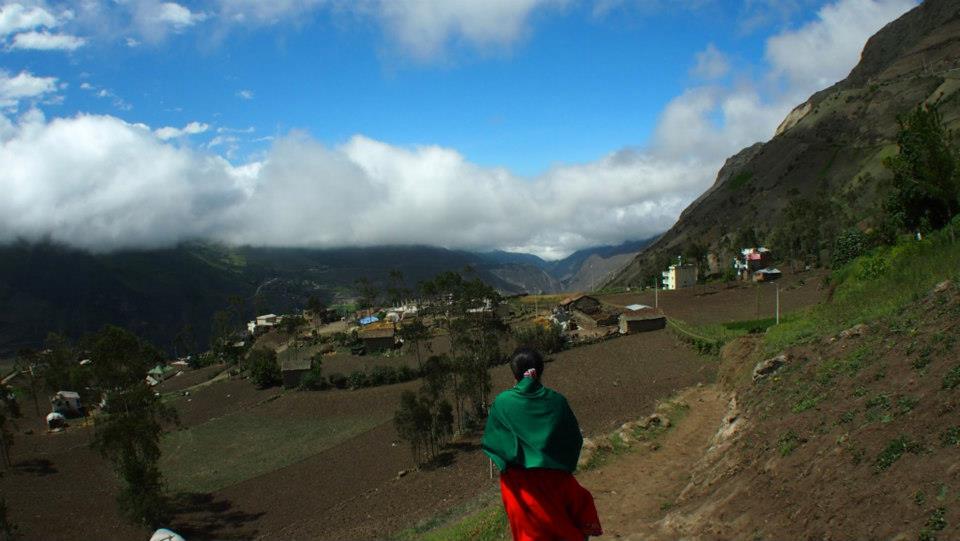 Rachel (USA) – Nizag Community
On my first day of volunteering at the indigenous community of Nizag, I shucked corn while sitting on the side of the mountain, rode a donkey, and learned about the different crops in the Nariz del Diablo valley. I returned to the Casa de Turismo after spending a full day with Margarita—tired, dusty and excited to see what the next day would bring.
I spent two weeks in Nizag hosted by a different family each day, including the weekend. I helped herd the animals up and down the mountains, learned about and assisted with crops—corn, lentils, potatoes, just to name a few—and, most importantly, learned about the lives of the people living in Nizag. I had hoped to teach English, but because of long working days, I never was able to. After spending the day with a family (and very excited children), I would return to the Casa de Turismo to read and indulge in a warm electric shower. I had all my meals with the families who tried to accommodate my vegetarianism and make foods I enjoyed. Most times, my meals consisted of soup, rice, vegetables, potatoes, and eggs. There was a kitchen at my disposal, but I felt no need to use it given the large helpings I was offered.
Everywhere I went, I was cheerfully greeted and offered kindness and generosity. Many were curious about life in the U.S, since most people in Nizag had at least one family member abroad in the U.S. or Spain. I explained the outrageous price of organic avocados in the U.S. ($2 for one), airfare between New York and Quito, and life in the U.S. As a twenty-three unmarried woman, I was considered quite the "old maid" in Nizag, where many women get married before they are eighteen.
Still, each day was an opportunity to improve my Spanish, learn a few words of Kichwa, and experience the daily life in Nizag. nizag07I was satisfied with my volunteer experience, especially because the people were very open, friendly, and patient with me. I would recommend this experience to others who really want to get to know and understand the lifestyle, hardships, and customs of indigenous people in a small community in Ecuador. It was an experience I won't easily forget.